Event Details
You must be registered by 6/3/2021 to attend in person! 
Meeting Agenda
Welcome and Introduction of Speakers and Topics
Introduction of Board of Directors – Joe Rezendes
Speaker 1 - Protecting Critical Infrastructure: Andrew Sekela, Special Agent FBI
Break
Speaker 2 - 2021 Annual State of Phishing Report: Tonia Dudley, Strategic Advisor Cofense
Break
Speaker 3 - Infrastructure Requirements: Jeremy Rasmussen, Chief Technology Officer Abacode
Closing Remarks – Joe Rezendes
Protecting Critical Infrastructure
Andrew Sekela, Special Agent Federal Bureau of Investigation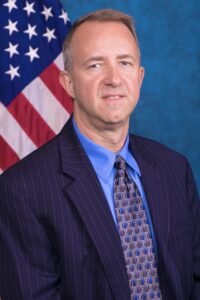 Abstract: Utilities, industrial plants, and other facilities are vulnerable to a number of different types of threats, both physical and virtual in nature. This presentation provides examples of these threats. It offers suggestions on how to mitigate the threats, including minimizing control system exposure and implementing cyber-physical safety systems. It also discusses some of the resources that are available to help protect facilities, including government bulletins and other publications.
Bio:Special Agent Andrew Sekela graduated from the U.S. Naval Academy and served on the USS Batfish, a nuclear-powered attack submarine. SA Sekela completed a five-year tour with the Navy and then worked in the private sector for seven years. After joining the FBI, SA Sekela spent five years at the Washington Field Office (working public corruption and government fraud investigations) and three years as a Supervisory Special Agent assigned to the International Corruption Unit at FBIHQ. SA Sekela is currently assigned to FBI Tampa. For seven years, he supervised a squad of Special Agents, Forensic Accountants, and Intelligence Analysts responsible for investigating white collar crime. He is currently assigned as the Private Sector Coordinator for FBI Tampa. In this role, he is responsible for liaison between the FBI and all non-government entities (including companies, financial institutions, and colleges/universities) in the 18 counties which make up the territory of the FBI Tampa Division.
2021 Annual State of Phishing Report
Tonia Dudley, Strategic Advisor Cofense 

Abstract: The rapid removal of threats has never mattered more. In the 2021 Annual State of Phishing Report, Cofense discusses how 2020 saw the emergence of new threat actors, the appearance of some old ones, and changes in malware and phishing attacks. Tonia Dudley, Cofense Strategic Advisor will share the best and worst of 2020, and what we learned about phishing, phishing attacks, threat actors, malware, and more. Using Cofense data - not surveyed - Tonia will share how attackers are using credential phish at a rate of over 50% - and how the COVID-19 pandemic reshaped the phishing landscape.
Bio: Tonia Dudley, Strategic Advisor, joined Cofense in 2018. In this role, she focuses on phishing defense advocacy while demonstrating how Cofense solutions help organizations worldwide minimize the impact of attacks thus reducing operations costs. Dudley evangelizes Cofense's approach to phishing defense and incident response to new and existing customers, prospects, and the information technology market through speaking engagements, publishing platforms, and numerous media opportunities. Dudley also advises Cofense product teams on specific customer and market-driven needs to help streamline product roadmaps. She was instrumental in creating Cofense's inaugural international customer advisory board. Dudley represents Cofense on the Board of Directors for the National Cyber Security Alliance.
Infrastructure Requirements
Jeremy Rasmussen, Chief Technology Officer Abacode

Abstract:
• Post-covid IT environments and "Zero Trust"
• Trusted software becoming less trustworthy: SolarWinds attack
• Indicators of Compromise (IOCs) and kill chain for ransomware
• Remote access misconfiguration and recent Oldsmar Water system attack
• Identifying Web/SSL VPN vulnerabilities in firewalls
• Countermeasures for combatting emerging threats
Bio: Jeremy Rasmussen is Chief Technology Officer of Abacode, a Tampa Bay-based company providing managed cybersecurity and compliance programs to businesses across all industries. He is also an adjunct professor at the University of South Florida and founder of the USF Whitehatters Computer Security Club (WCSC). Since 2000, he has taught courses in cryptography & network security, ethical hacking, digital forensics & investigations, and mobile & wireless security. For nearly 30 years, he has performed research & development of cyber solutions and built cyber services teams for government and commercial customers. Jeremy is a Certified Information Systems Security Professional and Certified Ethical Hacker. He was named 2017 Tampa Bay Technology Leader of the Year.
Start date: June 15, 2021
Start time: 09:00 a.m. EDT
End time: 12:00 p.m. EDT
Venue: FBI Tampa Field Office located at 5525 West Gray Street, Tampa, FL