Event Details
You must be registered by 12/6/2021 to attend the meeting! 
Date: December 7, 2021
Start time: 9:00 a.m. EDT
End time: 12:00 p.m. EDT
Venue:  Online
Meeting Agenda
9:00 Welcome - Joe Rezendes
9:05 Introduction of Speakers and Topics - Moderator Ray Secrest
9:10 Speaker 1 – Sean Marcil, Cirrus Tel
9:55 Break
10:05 Speaker 2 – Ray Secrest, Tampa International Airport
10:50 Break
11:00 Speaker 3 – Andy Sekela, FBI
11:45 Closing Remarks – Joe Rezendes
Managing Vendor Complexity in a Hybrid Cloud World
Sean Marcil,  Managing Partner, Cirrus Tel

Abstract:Sean will outline procurement best practices, TNARA methodology, plus CirrusTel's proprietary tools and ability to assist Customers make better-informed decisions and manage their Technology Vendor Ecosystem.
Bio: 24+ years' experience in a variety of Senior Management and/or C-level positions. Sean's career started in Canada in Finance and Operations where he was responsible to manage and implement the procedures and systems which facilitated exponential growth; company revenues increased from $500k to $25M iver a five-year period. In 1999, Sean was relocated by this company to the USA. While in the USA, Sean continued his career growth reach a level of CFO/COO. Before becoming a Trusted Advisor for WAN Technologies, Sean was directly involved in the WAN Technology decisions all the companies he worked for.
Sean's expertise includes helping corporations better understand and analyze their current WAN Technologies and Costs; allowing them to accelerate their digital transformation and operational efficiencies without sacrificing Security. Sean's clients typically realize greater than 30% cost savings, with some achieving as much as 80%.
Areas of expertise include:
• Helping companies design, manage and use WAN technology to improve business outcomes.
• Improving the Employee (EX) and Customer (CX) experience.
• Managing the RFP/RFI process.
• Financial analysis including ROI, Payback, NPV and TCO.
Today's Cyber Insurance Requirements
Ray Secrest, Sr. Manager, Tampa International Airport

Abstract: Ray will tackle a hot topic today: cyber insurance.  With ransomware and other security breaches top of mind, are you doing everything that your cyber insurance requires?
Bio:  Ray Secrest is the Sr. Manager of Information Security and Local Agency Security Officer (LASO) at Tampa International Airport (TPA). He is a proven security professional, leader of security teams and programs specializing in risk-reduction, compliance, vulnerability assessments, security awareness and training across the enterprise. He has a passion for using his knowledge to educate staff authority-wide on current security liabilities that aid in the protection of TPA from the ever-changing cyber threat landscape.
Prior to joining TPA, Ray worked for various fortune 100 companies and focused on Digital Forensics, Threat Intelligence, Vulnerability Management, Incident Response, Security Operations, and Leadership Development. These experiences have contributed to industry related proficiencies while keeping him focused on tangible opportunities to improve a business' security posture. Ray has 20+ years in Information Security and holds several certifications: CISSP, CEH, GCIH and is a graduate of the SIM RLF Leadership for Life program. He volunteers for BSides of Tampa Security Conference, serves on the Tampa Bay Infragard chapter board as Secretary and enjoy presenting at security conferences.
In his spare time, Ray enjoys working with his hands, including woodworking, small hobby projects, and spending time in nature. As time permits with his busy schedule Ray enjoys the time gets to spend with his kids currently off to college, both in and out of state.
Today's Threat Landscape
Andy Sekela, Special Agent,  FBI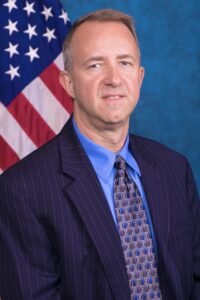 Abstract: This presentation provides a brief overview of five of the most significant threats facing organizations in today's world. It covers Cybersecurity, Insider Threat, Economic Espionage, Business Email Compromise, and Internet Fraud.
Bio: Special Agent Andrew Sekela graduated from the U.S. Naval Academy and served on the USS Batfish, a nuclear-powered attack submarine. SA Sekela completed a five-year tour with the Navy and then worked in the private sector for seven years. After joining the FBI, SA Sekela spent five years at the Washington Field Office (working public corruption and government fraud investigations) and three years as a Supervisory Special Agent assigned to the International Corruption Unit at FBIHQ. SA Sekela is currently assigned to FBI Tampa. For seven years, he supervised a squad of Special Agents, Forensic Accountants, and Intelligence Analysts responsible for investigating white collar crime. He is currently assigned as the Private Sector Coordinator for FBI Tampa. In this role, he is responsible for liaison between the FBI and all non-government entities (including companies, financial institutions, and colleges/universities) in the 18 counties which make up the territory of the FBI Tampa Division.
#########
Date: December 07, 2021
Start time: 09:00 a.m. EDT
End time: 12:00 p.m. EDT
Venue: Zoom link (will be provided)